!BODY BGCOLOR="#c0c0c0" BACKGROUND="bkgrbr2.gif">
Nuclear
Data
Service
International Atomic Energy Agency
Wagramer Strasse 5, P.O.Box 100, A-1400 Vienna, Austria
Tel:(+43 1) 2600-21714; Fax:(+43 1) 26007

Nuclear Reaction Database
Standalone Retrieval System
(EXFOR+CINDA)
<!small> Version 1.10, March 2003
<!/small>
V.Zerkin



Vienna, 1999-2003


---
<!P align=justify style="margin-left:5%; margin-right:5%;"> The goal of Nuclear Reaction Database (NRDB) project is to combine CINDA, EXFOR, ENDF and Dictionaries as an integrated, platform independent, relational database with developed interfaces (Web, CD-ROM) satisfying the major users' needs.
EXFOR * contains experimental nuclear reaction data for incident neutrons, charged particles and photons.
CINDA * contains bibliographical references to experimental nuclear reaction data and to calculations, reviews, compilations and evaluations of neutron reaction and spontaneous fission data.
ENDF is a collection of evaluated data libraries.
All databases are available for users via Internet and on CD-ROMs.
* EXFOR and CINDA are compiled by Network of Nuclear Reaction Data Centers: http://www-nds.iaea.org/nrdc/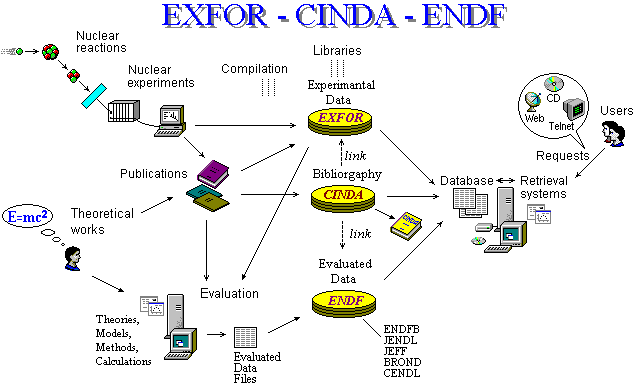 Fig.1 Nuclear Reaction Databases
Present Standalone Retrieval System provides interface to EXFOR and CINDA libraries and distributed on CD-ROMs.
It was developed by Viktor Zerkin, Nuclear Data Section, International Atomic Energy Agency, 2002-2003.

The System consist of software and databases.
Software: Java program tested on MS-Access/Windows, MySQL, Sybase/Linux and set of batch files and executables providing conversion of EXFOR data to computational format and plotting. Help-information is also provided online.
Databases: EXFOR and CINDA (January-2003) under MS-Access:
- EXFOR: more then 13,500 Entries with 90,000 data tables
- CINDA: 266,000 Lines (40,500 publication in 132,500 blocks).
Java: CD-ROM contains also Java Real-time Environment (JRE: 1.3.0-C) for Windows allowing to avoid installation of Java for Windows-users.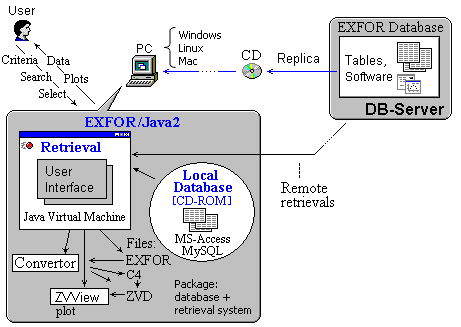 Fig.2 EXFOR-Java Retrieval System
Main applied features of EXFOR+CINDA/Java2
EXFOR and CINDA databases are integrated:
- CINDA has a full authors list and title from EXFOR where it is possible
- user can get EXFOR data directly from CINDA-Selection form
Convenient User Interface based on Java2-Swing forms
Powerful fast search (based on SQL) with variety of criteria:
- Target, Reaction, Product, Quantity, Energy range,
- Cutoff date, Z and A-range of target/product,
- Author, Country, Reference, Reaction Sub-Fields SF1-SF9,
- Quantity Code SF5-8, Keywords Value, STATUS=SPSDD,
- Publication and Modification Dates
Any combinations of criteria are available, including multiple parameters, ranges and wildcards
Input of retrieval criteria is combined with On-line help system using EXFOR-Dictionaries
Results of the search can be sorted by Reaction-Code, Accession#, Block#, Publication-Code
Summary for the selected data and Bibliograpy are provided with explanation of the codes
Plots of selected EXFOR data (cross section only) are generated on request in the background and appear as a static picture
Interactive plotting of cross section EXFOR data is provided by ZVView
Main sytem's features of EXFOR+CINDA/Java2
Works on any platform having Java/JDBC (tested on Windows, Linux, VMS)
Allows to work with local and remote databases at the same time
Does not need any installation and can be used being on CD-ROM
Long time requests of the Help-data are executed asynchronously
See "Screen Shots"


Please, send your comments by e-mail to: V.Zerkin@iaea.org (Viktor Zerkin)

To order CD-ROM, please send e-mail to: online@iaeand.iaea.org



---
International Atomic Energy Agency
Vienna, 1999-2003